Helsinki campus
Kyläsaarenkuja 2, 00580 Helsinki
Contact information
Check out the website of the cafeteria
Diak Helsinki is located in the regenerated Kalasatama district of Helsinki, at the campus centre of Arabianranta, northern Kalasatama and Kumpula, close to the amenities of the Arabia shopping centre.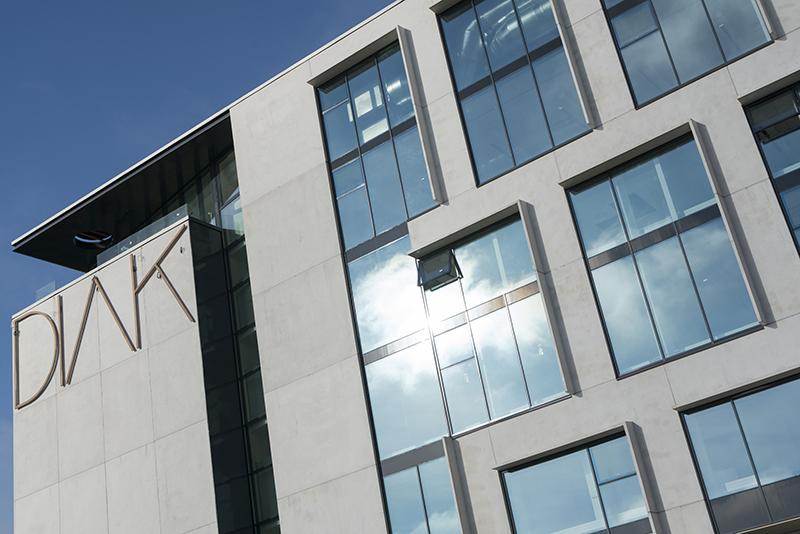 The building was completed in 2015 and designed with environmental values and accessibility in mind.
The design was inspired by the themes of digital openness, user focus, internationalism and community.
Our Helsinki campus is home to a total of 2,500 students studying in our social services, health and interpreting programmes.
See video of virtual tour in Helsinki campus:
Our lecture halls feature recording technologies and solutions which enable us to offer remote access to our lectures from all our campuses across Finland. Student services, library and information services and the student union's facilities are located centrally on the second floor.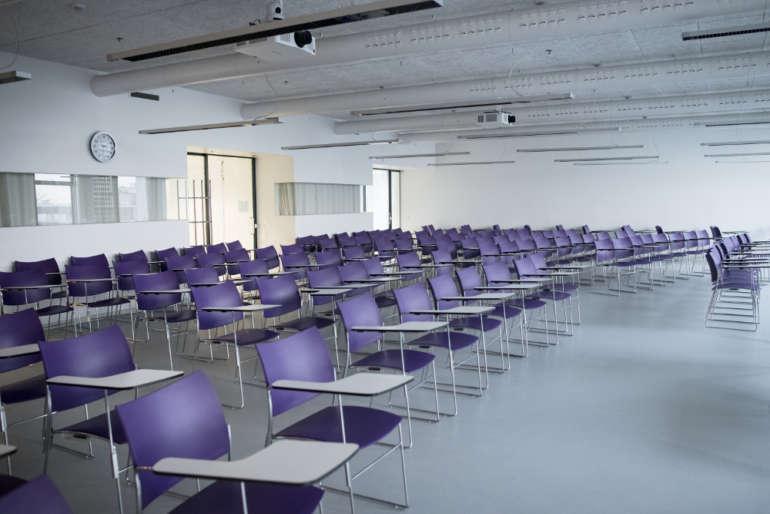 Services at Helsinki campus
The library, chapel and Food & Co Diak Kalasatama Restaurant at Diak Helsinki are also open to the public. Local residents and passers-by are welcome to use our services!
If you need conference or meeting facilities in Helsinki, our campus is a good option. It is relatively centrally located and has good public transportation connections.
For more information, please contact Porter Timo Kulmanen: timo.kulmanen@diak.fi.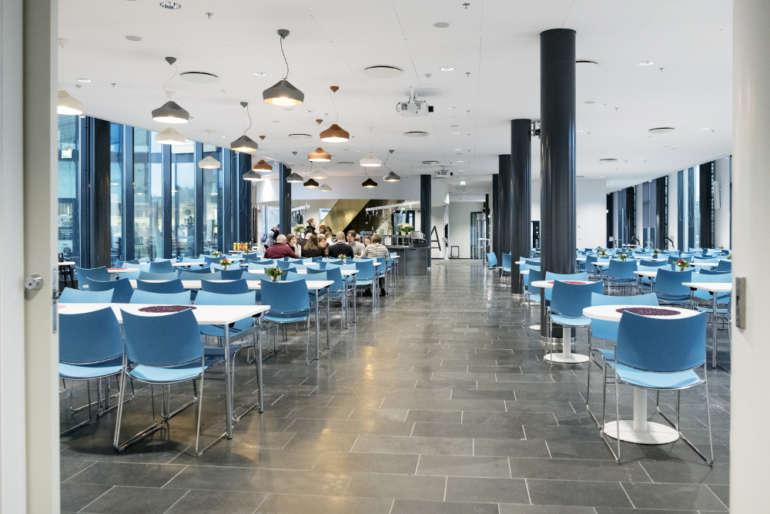 ---
Location
Diak Kalasatama campus is located 4 km from the Helsinki city centre, at the address Kyläsaarenkuja 2, Helsinki.
Arrival from Helsinki airport to city centre
You can conveniently travel to the city centre of Helsinki with a train connection from Helsinki Airport. The I train travels a route: Helsinki – Tikkurila – Airport – Myyrmäki – Helsinki, while the P train travels the opposite direction: Helsinki – Myyrmäki – Airport – Tikkurila – Helsinki. Both of the trains run on the Ring Rail Line between Helsinki city centre and the airport. The travel time is about 30 minutes. Please notice that you need a ticket to the ABC zone for travelling between the Airport and Helsinki city centre. The tickets for the commuter trains can be bought at the airport.
The easiest connection from Helsinki airport to the city centre is Finnair city bus. The bus stop is located outside the arrival halls of terminal 1 and terminal 2. The bus runs every 20 minutes, the journey takes 30 minutes and costs 6,30 €. Tickets can be bought from the driver by cash or by credit card.
Taxis are also available, the cost is approx. 40 € to the centre of Helsinki.
---
Arrival to Diak campus and public transport
A practical tool for finding the most suitable public transport in Helsinki is to use Reittiopas journey Planner
From Helsinki central railway station, the bus number 55 (departs from platform 3) stops in front of the campus building (stop Haukilahdenkatu). The journey takes 15 minutes.
Cash payments are accepted in public transport. Alternatively, you can buy day tickets (for 1-7 days) e.g. from R-kioski.
---
Map of the campus
The map of the campus can be found at study application Tuudo. Download it at app store!