Organisation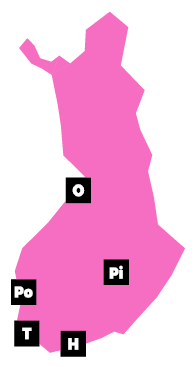 Diak is a national higher education institution with campuses across Finland: Helsinki, Pieksämäki, Pori, Oulu and Turku.
Diak has approximately 3,700 students in total and 250 employees.
The amount of students on Diak campuses (October 2020):
Helsinki: 2124 / 147
Oulu: 410 / 37
Pieksämäki: 491 / 35
Pori: 495 / 17
Turku: 177 / 16
Diak is organised in four divisions: Rectorate, Education, Innovations and Campus Services.
Executive Group
The Executive Group's duties:
decision-making on key development matters;
preparation of decision-making matters for the Board and the Managing Director, Rector;
oversight of operational and financial planning and assessment.
Members:
CEO, Rector Elina Juntunen
Director of Education, Vice Rector Pirjo Hakala
Director of Innovations Elina Ylikoski
Director of Services Johanna Lammi
Director of Human Resources Päivikki Rentola-Hemmi
Director of Finance Sari Otsavaara
Head of Communications Aura Vuorenrinne
---
Board of Directors
The Diak Board of Directors includes several representatives from the world of work. This ensures a strong workplace focus in our activities, which is an important requirement for universities of applied sciences. In addition, the Board includes representatives of students and staff members.
The Board is responsible for
decisions on the key targets, strategy and operating principles of the institution's operations and finances;
decisions on operating plans, finance plans and budgets;
decisions on student numbers.
Diaconia University of Applied Sciences Ltd Board of Directors 2021–2022
Director of Development Hannu Harri, Kirkkopalvelut, Chair of the Board
Director Olli Holmström, Helsinki Deaconess Institute Foundation
CEO Heikki Arikka, Diakon Palvelut
Director Kalle Kuusimäki, National Church Council
CEO Mikko Lapola, Oulun Diakonissalaitoksen säätiö
Bachelor of Social Services student Roby Mountrakis, Diaconia UAS
Lecturer Sanna-Maija Kohonen, Diaconia UAS
Secretary, Education and Social Policy Terhi Peltokorpi, Vice-chair
---
Owners
Diak is a privately owned university of applied sciences. The owners are the following:
---
Advisory council for employment matters
The advisory council is a cooperation body of Diak and its stakeholders. The council promotes the development of innovation activity at Diak.
Topics covered by the council include e.g. Diak's
role as a national operator;
ability to generate public debate on topics such as immigration, multiculturalism, interfaith dialogue, social exclusion, inequality, social safety networks, food bank queues and the role of diaconal work;
role in social challenges and new educational missions;
ability to develop workplace skills among students and teaching staff.
Members of the advisory council
Cristina Andersson, CEO, Develor Productions Ltd.
Outi Antila, Director General, Kela
Saara Hassinen, CEO, Healthtech
Timo Heiskala, CEO, Autism Foundation Finland
Kari Kanala, the vicar of the parish of Paavali
Teemu Laajasalo, the bishop of Helsinki, the Evangelical Lutheran Church of Finland
Tiina Mäki, director of administration, City of Helsinki
Päivi Nerg, permanent under-secretary, Ministry of Finance
Maria Ohisalo, researcher, Y-Foundation (not participating the council while workingas the Minister of the Interior)
Sirpa Pietikäinen, MEP, European Parliament
Satu Raappana, Executive Director, Sekasin Collective
---