Diak updated its corona instructions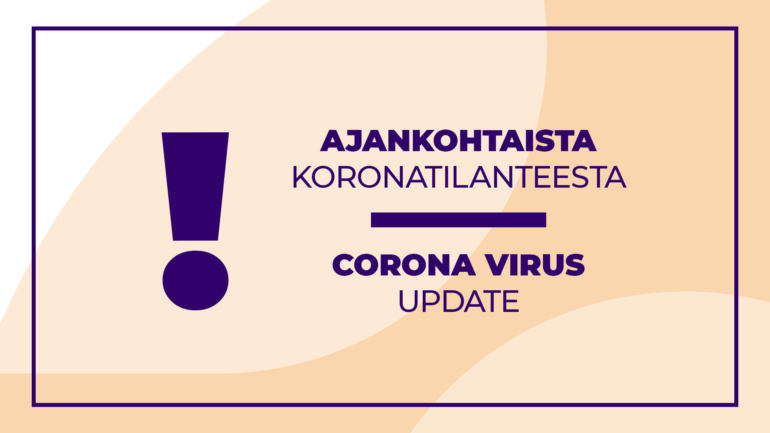 The coronavirus situation has worsened across the country in recent weeks. All of Diak's campus locations are either in the phase of accelerating or spreading the corona epidemic, or close to moving to these phases. For this reason, Diak has also updated its corona instructions.
Particularly due to the deteriorating situation in the metropolitan area, Diak is introducing new measures to prevent the spread of the corona virus. Diak's task force on corona virus closely follows the national guidelines and updates its own guidelines as necessary.
Changes in campus opening hours and restaurant services
The Helsinki Campus restaurant is closed until March 31, 2021. The possible opening hours of the restaurant will then be announced separately.
The Helsinki campus is closed from March 8 to 28, 2021. During this time, the doors will only be opened to Diak students who come for necessary teaching, those who come to the library pick-up service, and to students whose study tasks necessarily require a presence on campus. During this time, only the pick-up service is available at the Helsinki campus library.
The restaurants on the Turku and Pieksämäki campuses will be closed from 8 to 28 March, 2021.
Restaurants on other campuses are open for the time being. Follow the restaurants' own information on opening hours.
The Pieksämäki and Pori campuses are already closed as previously informed. See the corona website for more detailed instructions on how to do visit these campuses or the situation of other campuses.
Teaching mainly from distance
Almost all teaching has already been transferred to distance learning. Only teaching that cannot be carried out remotely, such as simulation teaching and skill workshops, takes place on campuses. Compulsory contact groups are divided into separate facilities.
Some of the exams previously conducted on campus have been postponed to remote implementation. More detailed information about the changes has been distributed to the students by e-mail and through Diakle and Tuudo. The changes are also reflected in the course timetables.
Follow Diak's corona information
Students receive the latest instructions regarding corona through Tuudo, Diakle and the updated corona situation page at https://www.diak.fi/en/corona-situation-in-diak/. Also, be sure to check your course timetables at regular intervals for changes.
Additional information: