Diak's campus service team launches its Service Promise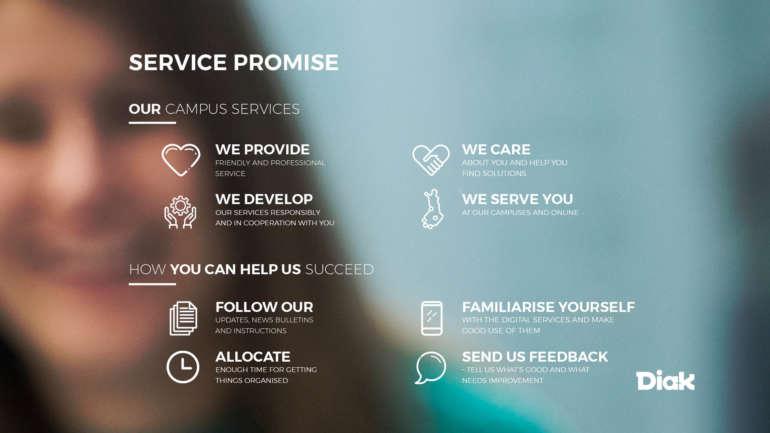 Diak develops its services for students, staff and other customers. The goal is that the services would be known among the user groups and that they would match the needs of the users in the best possible way. Therefore, the campus service team has now launched its Service Promise. The aim is that the service experience is pleasant for students, staff and other customers.
–The service promise was developed by our staff members. It was a long co-creational process during which we identified the factors that ensure a positive service experience, says Diak's Director of Services Ms. Elina Juntunen.
Campus services are there for you
Diak's campus services team include ICT and Infrastructure Services, Library and Information Services and Student Services. The team also includes Diak's Assistant Services as well as safety and quality development.
ICT services offer support and help in computer related issues and helps users with different programmes and ICT systems.
Library and information services are available for everyone at Diak's campuses and online. The library has a wide selection of books and other resources from various fields.
The student services include study planning, study office, admission services, study guidance counselling, international services, health care, support and well-being services.
–The service promise underlines the dialogue between Diak's staff and our customers. A pleasant experience is created together by our staff and our customers. We wish that students will participate in developing Diak's services by giving us feedback. This helps us to adjust our services to the demands and needs of our customers, Ms. Juntunen concludes.