Webinar on New Practices in Diaconia
Free entry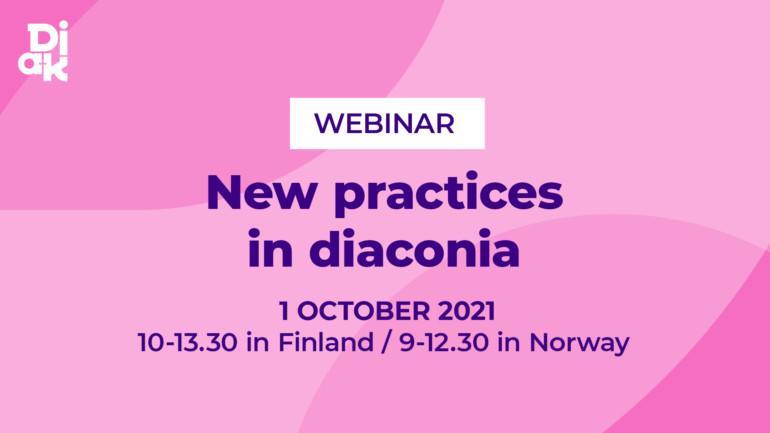 We warmly welcome you to learn the latest developments of diaconia in Norway and Finland!
The webinar program is jointly organised by Diaconia University of Applied sciences (Finland), VID Specialized University (Norway), and the National Church Council of Finland.
The keynote speaker will be Dr. Heikki Hiilamo who is a Professor both at Helsinki University and VID Specialized University.
The webinar program consists of presentations on the latest innovations in the field of diaconia in both Finland and Norway. The participants will also have the opportunity to get to know each other, discuss these innovations and share their experiences.
The webinar will be in English. However, the participants can also use their own native languages while commenting the presentations.
For more information, please get in touch with Heini Sajalin, Lecturer of Diaconia and Education at Diaconia University of Applied Sciences, email heini.sajalin@diak.fi.
Time: Friday 1st October 2021 at 10:00-13.30 EET (Finland) / 9:00-12:30 CET (Norway)
Programme:
10:00-10:15 Opening of the Seminar
Heini Sajalin, Deacon, Senior Lecturer, Diak
10:15-11:00 Plenary Session: "New Practices in Diaconia"
Heikki Hiilamo, Professor, VID & Helsinki University
Suzanne Maysonet, Diaconia Student, Diak
TBC, Student, VID
Chair: Kari Jordheim, Associate Professor & Programme Director in Diakonia, VID
11:00-11:15 Coffee break
11:15-12:15 Examples of the new practices in Finland and Norway
Chair: Heini Sajalin, Deacon, Senior lecturer, Dia
12:15-12:25 Coffee Break
12:25-13:00 Sharing in the Groups Breakout Rooms
Chair: Ilona Kontinen, Deacon, Senior lecturer, Diak
13:00-13:15 Voices from the Groups
Chair: Jouko Porkka, ThD, Senior Lecturer, Diak
13:15-13:30 Closing of the Seminar & Future Plans
Chair: Heini Sajalin, Deacon, Senior lecturer, Diak
Platform: ZOOM, You can access the event with the following link:
https://eu01web.zoom.us/j/65795815765?pwd=RnU0MEowOUJlYzF2U3lpNEFxNHltUT09
Meeting ID: 657 9581 5765
Passcode: 9237