"Going for exchange was one of the best decisions I've made"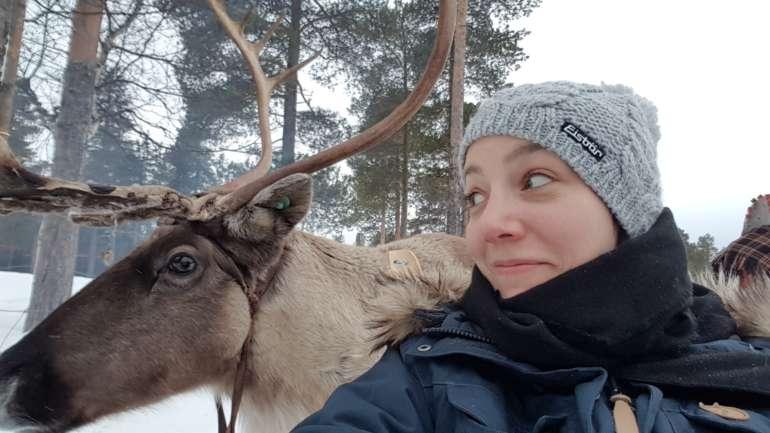 We interviewed Lara, an exchange student from Fulda University, who was been spending the Spring semester studying social services and Finnish language in Diak.
How did you come up with doing your exchange in Diak?
As I came further with my studies, I realized that I really wanted to have the experience of studying abroad. I wanted to go to some place where I didn't know anything about – Finland was one of those places. I started looking up Diak and Finland and I was impressed with the technology and modernity of the campus and that's why applied.
Blended learning and technology bringing new approaches to learning
I really like it that the studies are really organized, the technology and online learning is very interesting. The courses are well-structured and clear, and all the assignments are each very different. I learned many new programs I can use and different types of learning possibilities. I can use these new approaches also as a social worker in Germany.
Studying in Diak is very different from my studies in Germany. Here you're so much more responsible for your own learning. On the other hand it's great to have that freedom, but sometimes I do feel a bit lost and would wish to have more guidance from the teachers. I'm not sure yet which way of learning is better – maybe the combination of both the Finnish and the German – but it was interesting to see something completely new to take back home with you.
Student support services before and during your exchange
I was super happy when I got the email from the tutors – It was such a relief to have someone to ask questions and get support. I didn't have to worry about anything, I felt very safe, which was important for me while going abroad. As a person I like being organized and feeling in control, and I always felt I was in good hands. I realized that in the beginning I had more questions for tutors and later on I needed less support, but the tutors were always available when needed. They were very focused on us, asking what we want to do and what we were interested in. We had good support from the coordinators and got replies very quickly.
Exchange student life: travel, Finnish nature and sauna
Especially in the beginning I did a lot of activities, in Helsinki there's always something going on! But very soon I felt at home and I settled down, that's a good sign, I think. I started running again after the snow had melted, there's a super nice park (Keskuspuisto) in Pasila and there's a swimming hall close by. My new favorite hobby is going to sauna and relaxing. I also have a very outgoing friend who I do hikes with.
I've experienced a lot. The most memorable experience was our trip to Lapland. It was the most special and amazing thing; we got lucky and saw the Northern lights – and the reindeers and huskies.
Finnish culture
I think Finland is a very innovative and structured country, which I appreciate.  I love the Finnish library culture: a library is a place where you learn, people meet and interact, play videogames… That's something I really enjoy. Also, I've really loved the rich and diverse cultural life in Helsinki: going to many concerts, museums, festivals and other cultural events which were all affordable for students
I have a Finnish boyfriend now and that's also how I learned a lot about Finnish culture. I thought Finland wouldn't be so different from Germany, but there are a lot of little things. I wouldn't say it was a culture shock coming to Finland – it's completely worth it to come here. There are many nice traditions, traditional Runeberg pastries and the May 1st celebration.
Why go on exchange?
I'd say going for exchange was one of the best decisions I've made so far. I can really recommend exchange in Diak and in Finland. You won't have to worry about English, you'll always find new people to practice it with, people in similar situations who want to connect with you.  You're not only learning about Finland; you're learning about whole other countries and cultures. It's like an investment to the future, as you'll find friendships that will continue long after your exchange. Erasmus exchange is really about getting out of your comfort zone, trying out new things and I'm really proud of myself for trying things I'd never done before.
Tips for a future exchange students
Learn the language, even though it's difficult, it's totally worth it to learn the basics of the language because it's fun to be able to use it in daily errands in the cafeteria or supermarket.
Take good warm winter clothes with you!
Be open-minded, don't be stressed out or worry too much. If you seek for help, you'll most likely get it.