"This is how I have always wanted to study"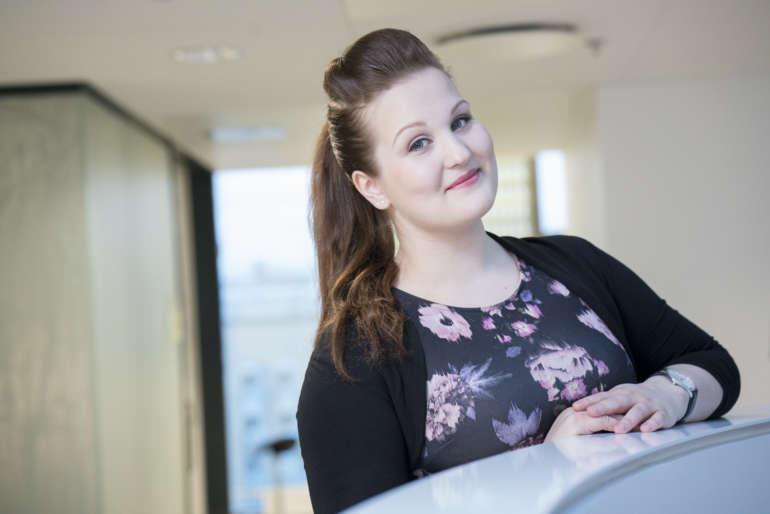 Iiris Hynönen, 21, Bachelor of Social Services student (Finnish-taught degree programme)
After completing upper secondary education I took a year off studying. Then I took a career test and was recommended the role of sosionomi as the best match for me. I had never even heard of this qualification. School counsellors had suggested nursing, but I was terrified of needles and blood!
I became interested in the social service sector. I had for a long time wanted to help people who don't have a voice.
When I told my parents that I was going to apply to the Bachelor of Social Services programme, they were surprised and asked why. Nobody in our family had worked in social services.
We chatted about it and I realised that I had always been drawn to this work without realising it.
At school, friends used to ask for my help in all sorts of problems, even ones that I didn't know existed. I helped whenever I could and it seemed to come naturally to me. Since then I have realised that even as a school girl I was someone who enjoyed finding solutions to people's problems.
I come from Leppävirta in Northern Savonia. I grew up in a safe family home and can't claim to have first-hand experience of the problems people with hard upbringings might have, but I have always been an empathetic person.
Growing up in a small village, it was natural for people to look after each other and offer help when it was needed. Working towards a common good was a way of life.
I knew that Diak had a Christian background and researched carefully what it meant. As I am not a religious person, I wanted to make sure that the studies would also qualify me for non-Christian roles.
Having said that, my beliefs are not in conflict with Christian values. The fact that Diak has a chapel and religious services doesn't bother me at all, and I don't mind studying alongside peers who study in church community work and youth work programmes.
After all, it only reflects the real world: people come together for different reasons and from different backgrounds.
It is also important to me that accessibility and non-discrimination are part of Diak's values and everyday operations. The campuses have accessible facilities and signs are also in English. We have gender-free bathrooms. Everyone is free to express their gender identity and sexual orientation as they choose.
I have always been a "straight-A's" student. However, I have never been someone who learns by reading alone – I need to make notes to internalise the information.
When I started at Diak and we began doing group assignments, I realised that this is how I have always wanted to study: by working in teams, with less emphasis on exams. You learn from others when working in groups, and social services are also about team work.
During clinical training, I have discovered my personal work approach and the types of groups I would like to work with.
I am now 21. I am interested in working in emergency shelters for mothers and babies or other women's refuges. The great thing about the Bachelor of Social Services qualification is that it offers diverse employment opportunities: we can work with various groups of people.
Diak educates professionals who take the side of the vulnerable and suffering. I believe that this quality is an important part of our identity.
Interview: Hanna Jensen
Photo: Riku Isohella
Read more about the English-taught Bachelor of Social Services programme.
Go back to read all the student testimonials.