Internationalisation, intense learning and adapting – this is BIP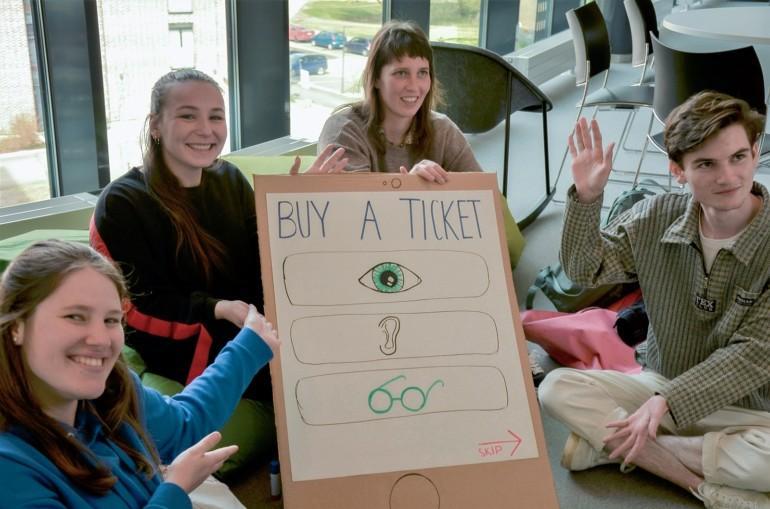 Helsinki campus was filled with an international atmosphere in May as an intensive week, as part of Digital Competence BIP (Blended Intensive Programme), was in full swing.  
Blended Intensive Programmes are funded by the Erasmus+ mobility programme. This BIP was coordinated by principal lecturer Olli Vesterinen and organised jointly by University of Applied Sciences Würzburg-Schweinfurt from Germany, Kärnten University of Applied Sciences from Austria and VID Specialist University from Norway. This was the first BIP coordinated by Diak, so surprises and learning weren't only part of the students' agenda – the organisers went through a learning process as well. 
– Luckily everyone in the planning group from all the partner institutions were very flexible and truly competent in their own field and in pedagogy, Vesterinen praises.  
Learning to learn in a new way
BIP combines a virtual learning period with a short-term physical mobility. For virtual part a platform Howspace was utilised, which enables interactive, innovative learning and teaching. During the intensive week the students took part in hackathon. 
In a hackathon (from words "to hack" and "marathon") students work in teams to solve current social challenges and at the end the solutions are presented to a jury. Helsinki hackathon covered real challenges in social work and health care. According to Vesterinen, this challenge-based learning combined with international teamwork is a powerful experience. During the BIP, you learn to learn in a new way. 
The intensive week got good feedback from the students and the organising went well overall. 
– Above all, the process has been rewarding. Our own teambuilding with the planning group has been part of that, Vesterinen describes. 
– Students, in turn, have done excellent work and brought innovative solutions for example to help elderly people with digital inclusion. Their ideas were excellent and I could never have come up with them myself, nor would I have presented them so wonderfully! 
Internationalisation and teambuilding in a short period of time
Altogether 39 students participated in the BIP from different partner insitutions. The students worked in teams virtually before and after the intensive week in Helsinki. This way BIP offers an excellent opportunity to gain diverse international experience in a short period of time. Students Anna, Iris, Abiodun, Denise and Hendrik, a team joining the forces of all three countries, were pleased with the experience. 
– The best part of this BIP has been to meet new people and get to know new cultures. The international aspect and the opportunity to learn new things has been interesting. The Finnish system and society seem very advanced. 
Diak student Sami Mazzei thinks that the best thing about BIP has been his own team. 
– We get along well, everyone is heard and everyone is taken into account. And we have fun. We have had a good team spirit from the beginning. Surely the activities have played their role as ice breakers. And during the intensive week we hanged out together outside the programme, too. 
In addition to the group work and lectures, the intensive week's programme also included other activities, such as the documentary film Ruthless Times – Songs of Care, sightseeing and evening activities. 
"It is good to continue from here"
Mazzei describes the beginning of the BIP intense but he thinks that in the end the workload has been manageable. During the BIP he has learnt teamwork skills and self-confidence. He also thinks that the international aspect has been a positive thing. 
When asked if Mazzei would recommend BIP to others, the answer is a quick and sure: "Of course!" Vesterinen agrees. 
– In my own experince we succeeded and it is good to continue from here. We learnt a lot from organising this BIP. We can use this experience and knowlegde in the future when planning new BIPs, as well as this same Digital Competence BIP, if only we get a change to do this again. We hope so! 
The next BIP coordinated by Diak, with the theme of Asset-based Community Development, takes place on 8.–13.8.2022. Read more on the website.