First joint application has ended – number of applicants to Diak increased from last year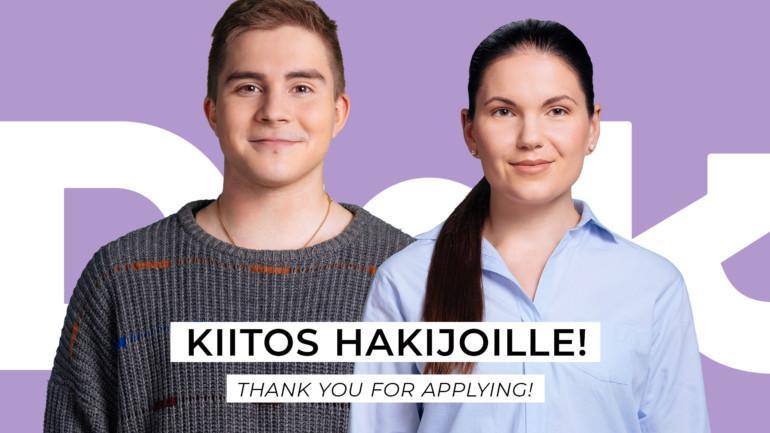 The first joint application for higher education in Finland ended on January 19, 2022.
The bachelor's degree programmes in Diaconia University of Applied Sciences (Diak) garnered 1 857 number of applicants, of which 632 applied primarily to Diak. Total number of applications to Diak grew by 26 % when compared to the previous application for the same programmes.
Diak offered 60 study places in two English-language bachelor's degree programmes in health care and social services. The programmes start next autumn.
Bachelor's degree programmes in the joint application were
Bachelor's Degree in Health Care, Nursing (joint degree with Arcada): 746 applicants
Bachelor's Degree in in Social Services: 1 111 applicants
Also in the joint application were master's degree programmes in Global Change and Community Development and People-Centred and Innovative Leadership in Health Services.
Entrance examinations
Student admission for the bachelor's degree programmes is based on the International UAS exam, which is completed online. The examination has two phases, which will be held in February and March. Applicants will receive invitations to the examinations in email.
Admission for the MA degree programmes is based on entrance assignment, which has two parts. Deadline for the assignments is 26 January.
Read more on entrance examinations on Diak's website and see the complete schedule for admissions.
Admission results
Results for student selections will be published at the latest by 1 April. We will inform on our website when the results are published. We don't publish names of the selected students online.
Applicants can see their admission results on the Studyinfo website. All the applicants will receive an email on the admission results.
Offered study places must be accepted by 15 July 3 pm.
Second joint application
The second joint application in psring 2022 for higher education in Finland will be held from 16 to 30 March 2022. Diak's bachelor's and master's degrees held in Finnish will be in the application. Read more on Diak's Finnish website.
More information
Read more about our study programmes in Diak's admissions website.
Admissions services, admissions@diak.fi, tel. +358 (0) 400 725 384.