Important updates to Diak's corona instructions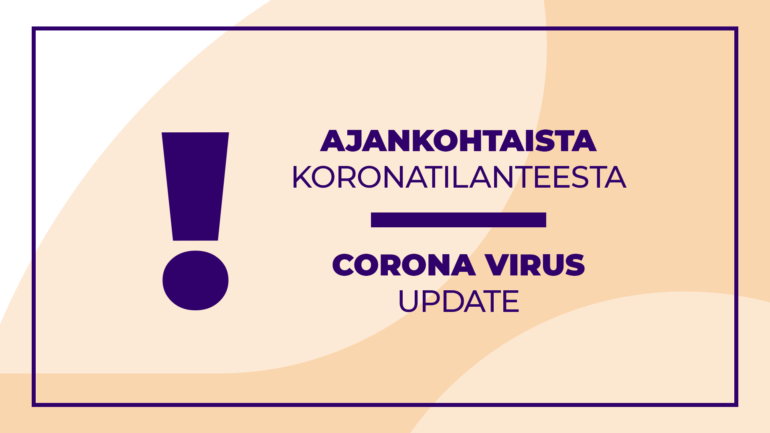 The corona situation has gotten worse especially in the capital region. A large amount of new COVID-19 cases can be tracked to situations that feel familiar and safe. 
Please follow the safety guidelines at campuses
Please bear in mind that Diak strongly recommends wearing a mask when moving around at campuses. Remember to use mask also when doing groupwork or when visiting Diak's cafeteria. Wear a mask until you start eating. Continue paying attention to hand hygiene and keep a safe distance to your study mates. 
Read Diak's safety instructions at Diak's corona situation website. 
Studies
Studies are arranged mainly as and distance learning. Contact teaching is arranged only when it is crucial for teaching (e.g. simulations). 
Read more about distancce learning on Diak's corona situation website.
Group work
Group work is recommended to be carried out from distance. If you gather at campus, please remember to wear a mask and keep safe distances. 
Exams
General exams will be arranged mainly online for the rest of the year, but there are few exceptions. The following exams are arranged at campus: 
medication mathematics

 

medication administration, if mathematics is included

 

written exams of professional Swedish

 

interpreting studies: teacher will inform students on how the exams are organised.

 
Exams of anatomy and physiology I and II as well as written exams of English are arranged online in November and  December. 
Face masks are worn at exams, read more in a news item. If you are part of risk group and cannot wear a mask due to health reasons, let us know about it when registering to an exam. We will then reserve an extra space, where the exam can be made without wearing a mask. 
Registration only through an e-form by previous Thursday at 11.59 pm. Read more in a news item. 
Read more about online exams on the website General exams and undelivered assignments. 
Studies in the spring semester
The instructions mentioned in this text are valid until the end of this year. We inform about the arrangements of spring term soon. 
More information