"I could not have gotten a better place to do my placement"
I'm a student of Bachelor of Social Services. My internship took place in Norway, where I studied at the Vid University in Oslo. The university provides education and research in the field of health and social studies, pedagogy, management, diaconia and theology.
General information about the destination
Norway has over 5 million of population, it is one of the three Scandinavian countries, and it is also one of the Nordic countries. Its language is
Norwegian which is close to Swedish and Danish, but it has nothing to do with Finnish. I will be moving from the capital of one Nordic country to the capital of another Nordic country.
The weather is kind of similar to the Finnish one, which mean I am ready for it even though I do not love the Winter in the Nordic countries. I love the fact that Norway has mountains, and, in its capital, Oslo, you can also find them. The nature is beautiful and have mountains and sea in the same place is
amazing. Oslo has more than 650 000 inhabitants, and 60 000 are students. Helsinki has about 20 000 inhabitants and students less. As Helsinki, Oslo is dark during winter, but the summer days are long. The same can be said about people: During Wintertime Norwegians seem introverted and down – but they spring up in the Summertime.
Oslo, called the city of tigers after a poem from 1870 by Bjørnstjerne Bjørnson, who found the city harsh and merciless, is full and surrounded by forest, and its
geographical centre lies in the middle of Nedre Blanksjø, a small lake around 20 km from the Central Station. Also, it is a culture city. It offers around 5000 concerts each year – and this makes it the concert capital of Scandinavia. The river Akerselva divides the city in two: west and east. This city is often perceived as the wealthy inhabitants living on the west side and the young and working-class on the east side.
Studies and work placement
The exchange has been a Studies exchange with placement included. I took the course of International Social Work which has 10cr and the PRA2.
The course is two-folded; in the first part (in January) we looked into the foundation of international social work and related topics like social development and human rights. We also met social workers with field experience from working in different African and Middle East countries. In the second part (in March) we looked into how global trends affect people locally, with a focus on migration and issues of trafficking. In this part we will also raise awareness of supporting vulnerable user groups who face stigmatisation, in a local and international setting. We were planning to visit my placement for a field visit and another place, but due to COVID-19 these visits were cancelled.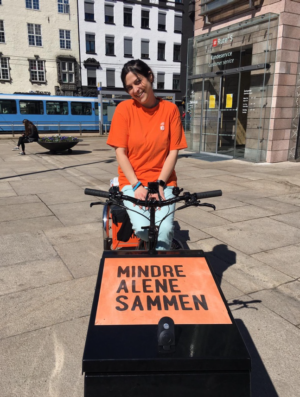 My PRA2 was developed at the organisation The Church City Mission which is an open and inclusive non-profit organisation that works in cities all over Norway, among people who struggle with everyday life in different ways. Their vision is for people in the city to experience respect, justice and care. One of the departments of the Church City Mission is the City Mission Center which is a place for an open and inclusive community in Oslo with room for everyone – especially for those in a difficult life situation, where everyone who visit it, will experience being seen, valued and given opportunities for expression. At Tøyen Church City Mission Center, Kirkens Bymisjon has a project called "Room for poor travelers" which is a low threshold accommodation, resource center and emergency accommodation for poor travelers in Oslo. This project has an extra focus on migrant in vulnerable situations. Here, at Tøyenkirken, those who need it can buy hot food, wash clothes and rent a storage box, all at a very reasonable price. While visiting the center, guests can have conversations with other travelers and with social workers, volunteers and/or the priest. The place, also, has City Breakfast, a soup kitchen where travellers can get a hot meal for free on weekends.
In addition to the work on the center, the City Mission Center seeks out migrants in precarious situations in the center of Oslo as well as we offer individual follow-up of individuals. Social policy influence work is a natural focus area as they see that the lives of those, they come into contact with are characterized by structural
discrimination and prejudice. Kirkens Bymysjon guests at Tøyenskirken come from different parts of the world, especially from Romania, Poland, Latvia, Ukraine. Many seek work or feed themselves by begging, bottling and selling street newspapers. My tasks were mainly working with Roma people when these visit Tøyen Kirken to have a hot meal, rent a storage box or wash their clothes. There are other different background guests, but many of them are Roma people.
When COVID-19 affected the situation, I continued with my placement but the structure of the work changes. Few departments got mixed and divided in small teams to work in different tasks. My team had the aim to deliver food on wheels (on a bike) at the center of Oslo.
Free time
I have been quite busy during the semester working on different courses and with the placement and the thesis. Nevertheless, I had also some free time to spend mainly with Spanish friends I met in the city and with my partner. I have been also involved in a youth organisation as a leader of an international Summer camp project. This project opened me to another group of people, Norwegian. And thanks to my placement I made friends from other countries as well which were my colleagues. The network I build in the city it provided me the support and entertainment I needed it. I built my life here and I feel part of the community. Activities I did: attending children and family activities of the youth organisation, going with my friends to bars and clubs, enjoy walking and nature, play board games at friends' places and visiting a summer cottage in winter. Unfortunately, there was not much snow this year, so I could not ski.
Practical Arrangements
Since I have Finnish citizenship, it has been very easy to register into the country, open a bank account and get a bank ID, as it works in Finland as well. About the apartment where I lived, I shared it with my partner, so that was something I did not have to deal or struggle in order to find a place where to stay. The university VID has been very supportive during the whole stay and they adapted really well to the COVID-19 situation and made sure that the exchange students were doing well.
Tips to future exchange students
I felt lucky because I started building my network before I moved for my exchange, however, the other exchange students had some challenges to adapt to the country. Coming from Finland, I found this country more social and with more sunny days, that made me be positive about my stay here.
I would encourage future exchange students to be active, to join to "New to Oslo" Facebook group which organise events every weekend to keep people active and
socializing as it is challenging this part in the Nordic countries. Also, join to Erasmus Students Network (ESN) as they also keep the Erasmus student active and use the free time to travel around and explore the city and the country. The other student exchange had more free time than me because they started the placement late and we did not have many contact teaching days, so they got to visit some places.
Conclusion
I honestly enjoyed my Erasmus exchange, especially my placement. I could not have gotten a better place to do my placement, the organisation, the team, the tasks, the target group. It has been fulfilling. The International Social Work course I enjoyed it as well as it is the field, I am more interested on and it was so related to my placement. I think I managed to make a good match with the destination and studies, and I love the city and I feel like at home here.
I felt I had support from DIAK in the whole exchange which was very important to me and from the Head of education to the teachers had made my stay abroad and my study plan process very smooth and adaptive to my situation.